Avery Gines, a sophomore at Broomfield, has been a key component for the Eagles softball team the last two years, earning a starting varsity spot her freshman year.
"Avery's steady play and calm demeanor helps to lead this team in a quiet but effective way," said Head Coach, Kale Gilmore.
Gilmore is an alumni of Broomfield High School himself and has been coaching softball for six years. He has also been an assistant coach for the Broomfield Baseball team, and took over the head coach position two years ago.
Although Broomfield's softball season abruptly ended with a tough loss in the first round of the state championship while facing Cherokee Trail, Avery Gines competed at her highest level to keep the Eagles in the game.
"Avery singled in her first at bat then hit her first career home run with a three-run shot to put us ahead 5-1 in the third inning," said Gilmore.
Despite Gine's display of talent and hard work throughout the season, Avery has only been playing softball for three years, opposed to most of her teammates who have been playing much longer.
Growing up, Avery played baseball for six years. The summer entering high school, she decided it was time to make the switch between baseball to softball. The hardest transition between the two sports was "how much faster softball is than baseball," Gines stated.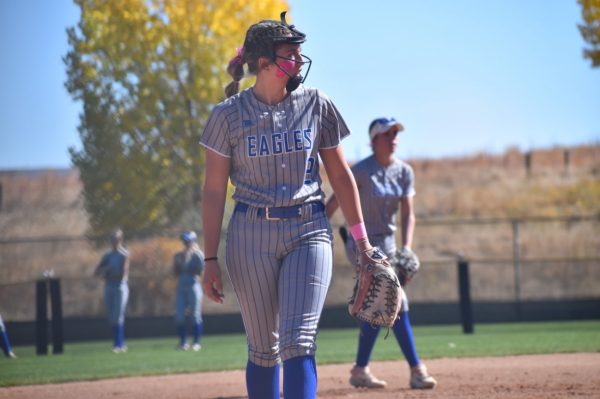 Avery's favorite part of the softball season this year was "how close our team got this year and the success we were able to have."
The 2023 softball varsity roster held a total number of nineteen girls, ten of which are currently sophomores. "I'm excited to see the success we have [in future seasons], especially since our team is so young," Gines said.
With Gines and her talented sophomore class, Broomfield softball hopes to bring home a state championship in the next few years.