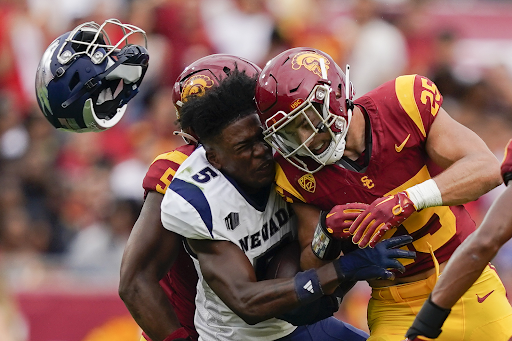 This penalty is defined as prohibiting players from initiating forcible contact against an opponent that "goes beyond making a legal tackle or a legal block or playing the ball."
As good natured as this rule is, there will always be controversy. For example, the Travis-Hunter hit. Some were saying that Henry Blackburn should be banned from the NCAA, while others were just wondering why it was only worth 15 yards to lacerate a liver.
Other situations have arised where the legitimacy comes into play, asking the question, "Is this taking the physicality out of football?"
For example, on September 16th this year, linebacker, Shawn Preston Smith Jr., was ejected for targeting (specifically leading with the crown of his helmet). The only question I have is, could this have really been avoided?
In the replay, LSU quarterback, Jayden Daniels, jukes to the right and jumps, all while Smith already has his tackle lined up and ready. Should we really be punishing players for hits that would be clean if the ball carrier just stayed in his lane?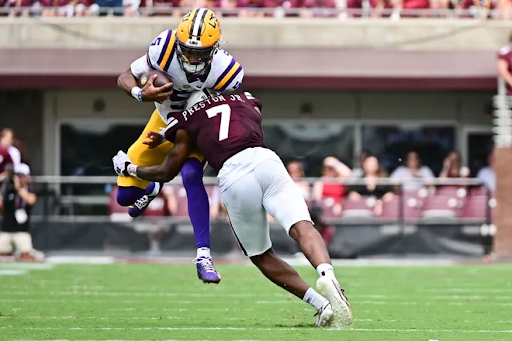 On the other hand, targeting helps keep players safe. In one instance, freshman linebacker at USC, Tackett Curtis, had a vicious hit that knocked the receivers helmet off. This type of targeting is dirty, but other times the defender has a hit lined up and the ball-carrier goes lower and it ends up being a high hit.
Some targeting calls are meant with malicious intent, but others are caused by the ball carrier, so what should we do about it?
I think that the NCAA should revise this rule to reflect the fact that a ball carrier's movements can be unpredictable. So if a play goes to review, and the officials see that the running back jumped into helmet to helmet contact, I feel that no one should be penalized, if not the ball carrier themselves.
An ejection can change a game and shouldn't be thrown around so much, especially with one loss sometimes deciding CFB playoff spots. I don't think targeting should be thrown out completely. It's a good penalty, it just needs a little revision to keep physicality in football.