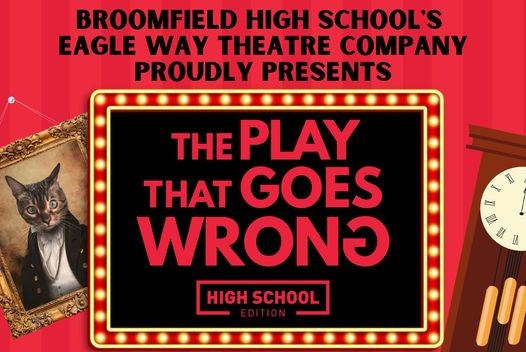 The Play That Goes Wrong is a comedy about "a play within a play," said Jenn Bryner, Broomfield's Theater Teacher.
Every year, Broomfield dedicates its first production to upperclassmen, (with the exception of some sophomores on crew). These students are given the opportunity to show off their passion for theater in a play primed specifically for them.
Over the past months, the thespians have been working non-stop to create a set complete with props and costumes as well as fine tuning the music and lights to present a show that meets their standards.
Bryner said, "I think it would be great for people to come and support those students."
The Plot:
A theater company has an idea for a play about a murder mystery that they think will hit it big. The production takes a turn for the worse as they (the theater company) begin the preparation, and things begin to spiral into disaster.
"You can't really follow it because everything keeps going wrong and so you have no idea really what's going on, but it's ok because it's still really funny," Bryner said.
Showings:
Wednesday, 9/13, at 7:00
Thursday, 9/14 at 7:00
Friday, 9/15 at 5:00
*Tickets $10.00 each- purchased on RevTrack.