The Seventh WoMan
Eagle spirit shines its best during varsity volleyball games.
Loud crowds, themed dress codes, powerful and encouraging chants, all of which completely embody high school football.
Wait, volleyball?
Ever since the first volleyball game of the season, the student section has been incredibly large and unusually excited. What's the reason behind this?
It all started one fateful Thursday evening (August 19th, to be precise) in the Eagle Gym. The varsity volleyball girls were getting ready to make their entrance, thinking it would be a night like all others.
"We would always have a student section, but it was small," Emma Winter, a four-year varsity player said. Clearly things were different this year, a "bunch of people" were showing up and "it was insane. I love it," said Winter.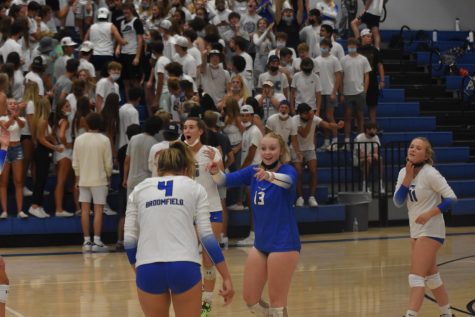 The majority of crowd supporters stemmed from the football team as the boys were in front directing the underclassmen. The eager boys would assess the game, quickly confer with one another, turn to the crowd, and then magic would happen. (The 3-0 season opener over Rock Canyon did not hurt anyone's spirits!)
"I think a lot of it is just something to look forward to," Tristan Caudill, a senior varsity football player, said regarding why he and others attend the games. "I've been to as many volleyball games as I can my past four years at Broomfield." Caudill said that he's always enjoyed attending the games, especially with his senior friends back as far as his freshman year.
Caudill has been one of the main leaders of the student section thus far this season and he gives all of the credit to the girls when it comes to the energy of the student section: "I think the biggest thing is that the girls are pretty good. They're really fun to watch, and just being friends with a lot of them. All the girls on the team are super nice, too, so people want to come support them."
Clearly, this student section has something to do with the talent of the girls volleyball team. They're record so far has been solid (8-2, currently 6th in 5A) and they are looking to continue their fantastic season.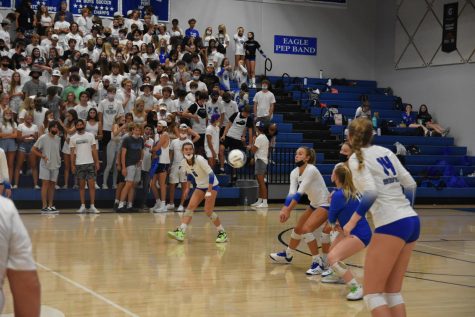 Along with the team succeeding in their first few weeks, the student section appeared on the news. Blake Naranjo, another varsity football player, discussed the impact the new had on the student section: "That was really fun. It kind of set a trend, like other schools have been putting up the 'party' chant that we did. It kind of just proves how much school spirit Broomfield has."
This new student section has been extremely fun and exciting, not only for students but also the athletes.
So, when the next volleyball game is home (Tuesday, 9/28 at 6:30), show up and be loud!