Coronavirus and College Applications
Students illuminate their experiences with the college application process and receive advice on how to overcome COVID-19 related challenges.
Like most other aspects of people's lives, the coronavirus has changed the college application process for students all across the nation. Many colleges and universities, including ones in the Ivy League, have eliminated requirements for SAT and ACT scores, at least for the class of 2021.
The actual components present on college applications aren't the only differences from past years, however. When COVID-19 revealed itself to the US, schools began shifting their traditional in-person campus tours to a virtual setting. This change alters the way in which prospective students are able to experience various schools throughout their application process.
So, are COVID-19-induced changes to the application process helpful or harmful to students? Sarah Stussi, a current senior at Broomfield High School, believes they're a combination of both.
She notes some of the advantages she's experienced during the process. For one, she says that having the choice of sending in her SAT scores has been beneficial, as she is able to submit scores where it helps her out, and not submit them where it doesn't.
In contrast, she mentions an application difficulty that has come out of the global pandemic.
She said, "It's also kind of challenging because we weren't in person until a few weeks ago." In result, when she had questions for the counseling department, she had to ask them via a virtual meeting. Being in person would have been easier for her to ask questions because she could simply "go into the counseling office and then ask." Still, she said that the BHS counseling department has been "really helpful," even in the virtual world.
BHS senior Grace Admire has her own perspective on the college admissions process. Admire is currently participating in a concurrent enrollment program, through which she is able to take college courses at Front Range Community College while simultaneously going through high school.
On top of beginning her college career at a time when teaching structures have been completely reformed —which she said "is definitely harder because [she] never [gets] to see any of [her] professors"— Admire is still undergoing the process of applying for larger, four-year institutions.
Admire highlights a significant struggle she's been facing with the college application process: the lack of in-person campus tours that, before COVID-19 hit, were commonplace in the decision-making and application procedures. She said, "I can't go visit the school and see what it looks like, and so that's really hard because you can't apply and see if you're actually going to like it."
So, how can students adapt to these changing circumstances, regardless of whether they view them as positive or negative? Ms. Malecha, a counselor at Broomfield High School, has some advice:
She said, due to the uncertainties in our lives right now, "[She's] had a lot more conversations around a legitimate gap year." She and her colleagues are encouraging students to apply for schools now, and, "if [they're] not feeling good in May, then [they] ask for a deferral." This gives students a better chance to secure a spot in their top school, while still allowing them an option for a gap year.
As for the lack of in-person college tours, another concern that students have shared, Ms. Malecha notes how the virtual substitute can still benefit prospective college students. She explains that some private colleges and universities use a "perceived interest" category to weigh in on their admissions process. In that regard, attending a virtual tour is "just as important as the in-person tour."
BHS counselors are encouraging many kids to hold off on committing to schools until they are able to step foot on campus. However, Ms. Malecha said that, if colleges aren't able to provide tours by decision day, it's still a beneficial experience to visit the city, just to get an impression about the overall surrounding environment local to a school.
Because things are changing so quickly, Ms. Malecha recommends that students visit the actual website of the schools they are interested in. She believes they will post the most updated information pertinent to their specific circumstances.
Additionally, she said, "Keeping on top of [the] counseling newsletters is super important," as BHS' counseling department sends out the most updated information that they can. Recently, they sent out a college-admissions seminar led by a former Dean of Admission, Peter Van Buskirk, which she said may "save [students] some anxiety."
Ms. Malecha's final piece of advice to students going through the application process comes from a phrase she says many counselors look to: "Write your dreams in pencil." Having goals is "really important," she said, but, "We can't always control our environment, and things may happen that are completely out of your control." Still, "that doesn't mean that we need to just fall into a puddle." Ms. Malecha believes it's imperative for students to be flexible and forgiving to themselves, hence the pencil not the pen.
Applications and admissions definitely look different this year, and they make look different in the years to come. Regardless of whether students find certain application changes to be good or bad, Ms. Malecha's tips may help to sort out confusion, and hopefully alleviate at least some of the stress that students are experiencing.
Even in these crazy times, Ms. Malecha said it all comes down to "[treating] each other well and [showing] ourselves grace."
About the Writer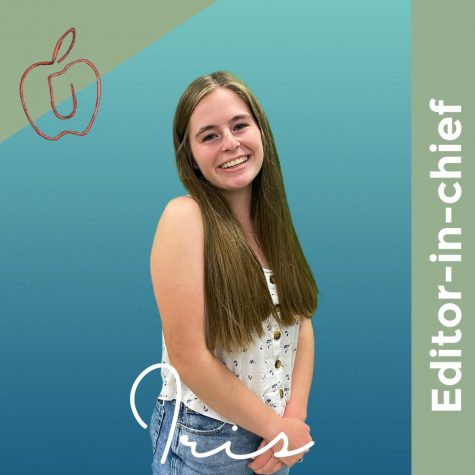 Iris Stanfill, Editor-in-Chief
Iris Stanfill is a senior and second-year member of The Eagle Way News. She has a passion for both writing and politics, two topics which she enjoys diving...