Next time you walk by the trophy case next to Wilkerson Gym on your way to class, keep an eye out for a new Boys Tennis State Championship trophy.
Kai Trujilo (12) has been working towards his high school goal of winning a State Championship the last four years, and on Saturday, October 14, that dream finally came true.
"I grew up [playing tennis]… thirteen years now", said Trujillo. He has been playing since he was four-years-old. Through the off seasons, Kai has continued to put hard work into his training, in the hope it would show throughout the regular and postseason.
Aside from the high school season, Kai played year-round in singles tournaments and started playing in travel tournaments shortly after COVID-19 had ended.
Through his school years, his passion for tennis has rubbed off in everything he does, including his school work. "I remember an essay he wrote [sophomore year] about someday wanting to be the number one singles state champion… Kai always demonstrated the maturity and grit that made me think, even back then, that this was a goal that he might actually realize," said his former English teacher, Mr. Matthew Lay.
Unlike almost every other sport, singles tennis is a test of your mental strength and determination alone in order to win. "There's no one to point fingers at or anyone to blame. At the end of the day, his victory is all on his shoulders. That's pretty cool," said Lay.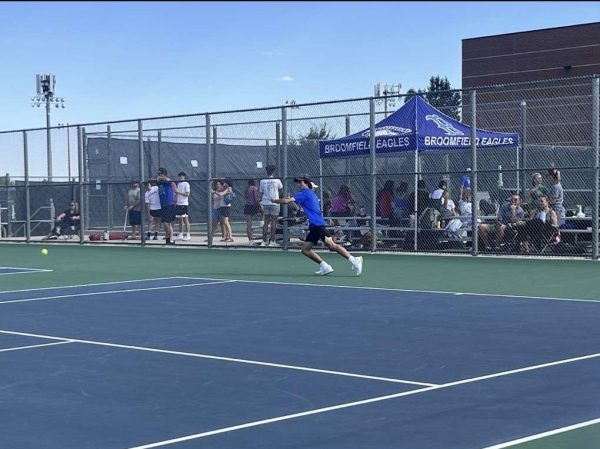 He stated, "It's a bittersweet feeling that it's my last year, but…I'm glad I got it done." Knowing that this was his last ever high school match, he was told to "leave it all out on the court," and that's exactly what he did. Kai went into this tournament with a winning mindset and was able to come out on top.
Trujillo plans to finish out his high school career, graduating early and spending his time these upcoming months making his final decisions for college. His goal is to play at the Division 1 level for men's tennis; and, with a new state title to his name, that goal might have just become a reality for our very own Broomfield tennis state champion.