The Legacy of Micheal Don Lewis
How His Act of Bravery Inspired the Community of Broomfield
On Wednesday morning, the 25th of August, in Sunridge Circle, Michael Don Lewis was tragically killed after confronting a man breaking into people's cars. But today, we honor Mr. Lewis and how he impacted every person that crossed his path through his many roles as a father, a grandfather, a veteran, and a friend.
Michael Don Lewis was born July 1st, 1949 in Sheridan, Wyoming and was the youngest of his siblings. He attended Tensleep High School and was involved in many extracurricular activities such as football, basketball, and track. Mr. Lewis also served in the U.S army for six years and was honorably discharged in 1973.
His family said their favorite memory of him is every Christmas he would come over and watch them open presents. They described Mr. Lewis as caring, kind, committed, and someone who would do anything for anyone. He was a figure who others would look up to for guidance and support and was even voted most supportive male parent in an old Broomfield High newspaper (The Eagle Cry).
Mr. Lewis was heavily involved in our community, a regular at Broomfield High School sporting events. He loved watching his grandchildren play sports and was seen attending many softball games, tennis matches, and track meets.
Mr. Lewis had pride in all the students at Broomfield High, and "he was proud of every kid he encountered," Alissa Lewis-Lorenz, the daughter of Michael Don Lewis said to The Denver Channel. He loved Wyoming football and the Broncos, but his favorite teams were all those at BHS. On Saturday, August 28, in Mr. Lewis' honor, members of the Broomfield community set out an empty chair in the right field at the softball diamonds.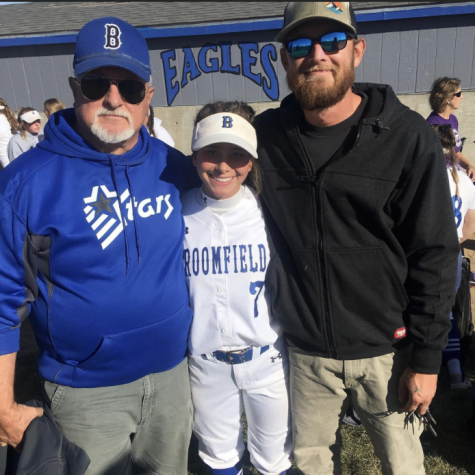 Another passion besides his family and sports was the 10th Mountain Division Reenactment group, which is a living memorial to honor the men of the 10th infantry. Mr. Lewis spent hours with the members; it was another one of his pride and joys.
Altogether, Michael Don Lewis lived to protect his country, his neighborhood, and most importantly, his family and friends. The Lewis family hopes that their father's legacy will reflect how caring and committed of a person he was, how he was there for his family and the students of Broomfield High and how he'd jump straight into the face of danger.
Sydnee Reichardt, Mr. Lewis's granddaughter, said one thing to keep in mind when considering your relationship with your grandparents: "I really encourage people to not take them for granted because in the end those are the things that you will remember."
His story of kindness and bravery will live forever in his children and grandkids and will continue to inspire us all.
If you would like to support the Lewis Family, here is a link to their GoFundMe.