A Future to Hope For
Most Eagles Think Things Are Looking Good on the Horizon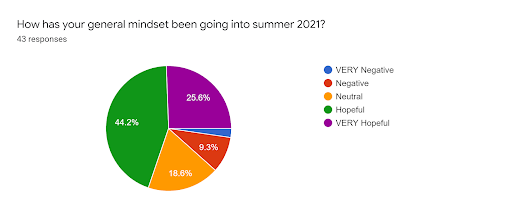 Back in may of 2020, the world was in disarray. A new virus that no one had ever seen prior was spreading to even the farthest reaches of the planet (excluding New Zealand). Fast forward to 2021 and feelings have changed. Vaccines are rolling out and hope is being restored.
However, most of us are tired of hearing about this virus. But soon we may not have to. Vaccines are granting near immunity to this virus. With the vaccine, hope has been shining through as well.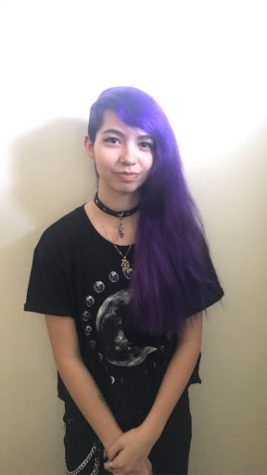 Students like Serena Solano, 11, are hopeful for the outcome of the summer of 2021. When reflecting on the months ahead, she said, "There will probably be some changes like a no mask policy and I can see people going out and doing things, but it's definitely going to be packed wherever you go. I'm hopeful that it's going to get better over the summer and things will go back to normal." She continued, "I've heard things in the news like masks being lifted and people getting vaccines. Either way, the new sanitation habits are definitely going to stay."
Others like Calder Moore, 9, had a more philosophical approach to summer. He said, "I think that after a whole year of setbacks due to the global pandemic, the scales of justices are finally turning in our favor after so long. I'm sure that, once it starts tipping, it doesn't stop." Originally he had a hard time transferring, and said, "Coming to Broomfield was weird. We were talking to screens. But I made it a personal goal of mine to go farther and achieve more this year. The teachers were very supportive."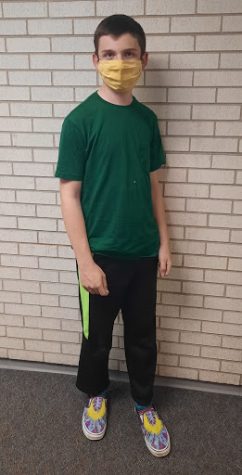 Many of the students who took the same survey as Calder and Serena agreed with the two. Out of the 43 students who submitted responses, around 44% said that they were hopeful about the future. And only around 9% said they weren't hopeful.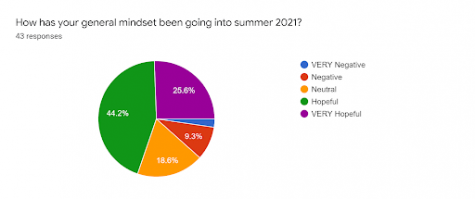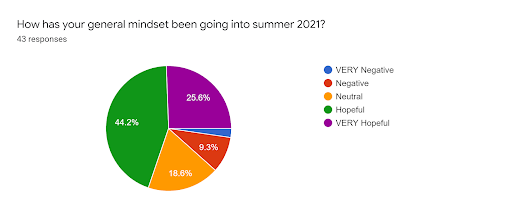 Overall, summer 2021 certainly has its bright sides thanks to vaccination and masks no longer being required outside. Things are open again and travel is becoming more and more common once more. Even though some have their doubts, the future is undeniably looking bright to most Eagles.