A Safer World Series
Devon DeVera and his father, Robert, were able to attend game 4 of the World Series in Arlington on October 24th. But was it somewhat normal given today's circumstances?
The year 2020 was looking like it was going to be a year without sports. No baseball, no basketball, no football, no hockey. But after lots of tough decisions and hard work, commissioners and league members for all sports reached agreements to make sports happen amidst a pandemic. The league that had the most trouble reaching an agreement was the MLB, but in the end, they made it happen.
"Don't forget we almost didn't have professional baseball at all this season, so being a baseball fan, I was willing to make compromises," said Robert DeVera. He and his family made the trip out to Arlington to be able to see the Los Angeles Dodgers play in the World Series against the Tampa Bay Rays.
A lifelong Dodgers fan, Robert was ecstatic to be able to attend his first World Series, even if it wasn't a typical World Series environment. "[The game] was one of the greatest moments in my life," he said. "The best part was that our whole family was able to attend. I'm sure the Dodgers will make many more World Series from this point forward, but to be able to attend one that they won was incredible."
His son, Devon, a senior at Broomfield High School, was just as excited as his father to attend his first ever World Series game. "The experience, in my opinion, was better than a "normal" World Series game without COVID because everyone was itching to visit a game in person instead of staring at a screen at home. The energy was out of this world (for the winning team)," he said.
Just like his dad, Devon has been a Dodgers fan his whole life, and he did not seem to think that the process and environment of an event as big as the World Series was hampered by all of the new protocols to keep himself and others safe from COVID-19.
"The environment was surreal, despite only having 25 percent of people there. The noise and cheers still sounded and felt like a packed stadium," he said about the environment. "You always have the sense of feeling that somethings wrong and everything around me doesn't feel "normal," but other than that it's a sports game with less people, like people attending a Detroit Tigers game," he teased.
Everything else about the game was the same except for the standard protocols that are now an everyday part of life: masks, social distancing, and temperature checks. Other than those, it was still a baseball game, a concourse filled with people buying hot dogs and drinks, vendors yelling up and down the aisle, and the good old 7th inning stretch.
The 2020 World Series will be one that will not be forgotten given everything that has happened, but in the end, it was still a true baseball experience for Devon and Robert DeVera. Dealing with new protocols was just a minor setback, but being able to be a part of an electric crowd and see the Dodgers win was all that truly mattered to these two in the end.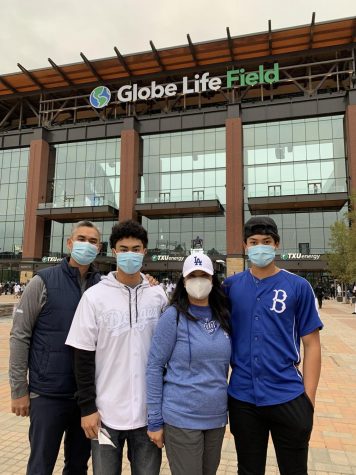 About the Writer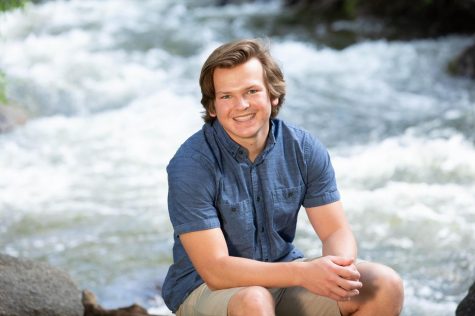 Trent Finnegan, Staff Writer
Trent Finnegan is a senior at Broomfield High School and a first year member of The Eagle Way News. He is a captain of the varsity football team at Broomfield,...