Seize Senior Year — Don't Wish it Away
With five months of high school to go, some reflections from one of our senior leaders: Sydnee Reichert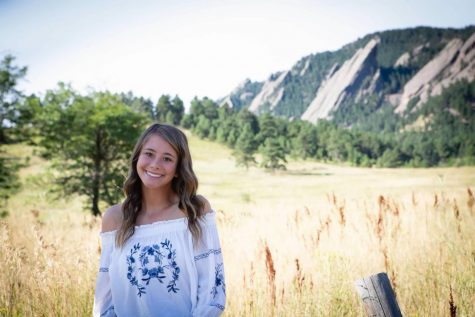 Some have been dreading the day we graduate, and for some it can't come soon enough. Four long years of classes, homework, studying for finals, hanging out with friends, and going to football games are all going to be over in five short months.
Every year, you hear about senioritis and how it kicks in within the first few months of school, but there are a variety of seniors who feel all different emotions heading towards May. It's been a long ride, but why do people really want to leave so badly? Or not leave? Or maybe aren't even sure how to feel?
As many seniors can agree, not only have these last couple of months flown by, but the entirety of high school has felt like a blur now that we graduate in five months. Being a senior, I can attest to thinking that high schools feels like such a short time.
I've been in Blue Crew the last two years, along with many other seniors, and this year I was lucky enough to be selected as a commissioner. Along with Brooke and Bailey Dubs, and other commissioners, we led the opening assembly with Mr. Garner on the freshmen's first day of school and we "didn't feel old enough to be standing up there," said Brooke. "I can remember sitting as a freshman on the bleachers and wanting to be up there someday, and then someday came and it was unreal," she said.
Sports have also made senior year fly by. Not only my own sport (softball), but the last time ever going to football games, volleyball games, and soon-to-be tennis matches. In the moment, the softball season really seemed to drag on, but then my senior banquet and senior night came and that's when it hit me: I became really close with my team this year, and I was so scared that this was my last time ever playing at the school. Fortunately, we were able to host and win regionals, which let me have two more games on my home field.
Another senior athlete, Hope Hanak-Harper, also finished her last season of high school volleyball in the fall. She had such a big role on her team this year and led them to the state playoffs after an undefeated regular season. Hope also thinks that the season flew by, "Starting with open gyms in June, it seemed like I'd have all the time in the world left with my team, but the next think we knew, we were playing our last game and putting on our jerseys one last time."
Another aspect that we have to think about is what will happen after this year. Some of us will go off to college next year and some of us will choose a different path. At the beginning of the summer, I was so set on never moving away and staying home forever, but then I found my dream school (Grand Canyon University). Even though I have all my college plans figured out, it really hits hard sometimes when I remember that I will have to leave everything behind in Colorado.
I'm just going a short ways away to Arizona, but there are other people who have dreamt of moving away for a long time. Jack Hertzenberg, who may go to California to further his education "is excited, but will still miss Colorado at the same time."
The ride has been full of emotions: stressful, fun, sad, and everything in between — this whole high school thing. It feels like just a short time ago when I was heading into middle school from my graduation from Kohl Elementary. Then from BHMS to BHS, now it's close to over.
High school is only four years of your life. That may seem so long right now, but it's just a blimp in our lives. There's no time to be mean to people, hold grudges, or even worry about drama. Have fun with the last five months, or even the next four, because there isn't time to live with high school fears.
Go to Prom and JAM, cheer loud, be present, and include people. Be yourself and be present in your own life. Don't forget to study hard, but have fun also. We don't have much time before our moms will be crying as we walk on that stage in a gown, so live up the last semester of high school, you don't get to do it again.
I never thought this year would fly but as fast as everyone said it would.