Wish Week – Broomfield Strives for $15,000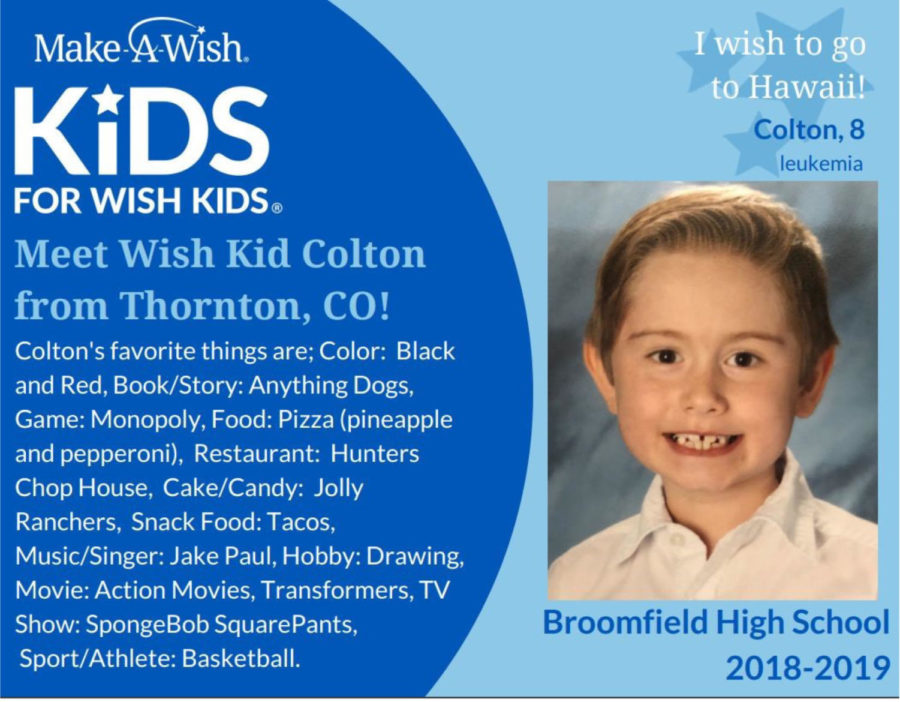 The race to $15,000 is on, but a goal like this should be nothing for Broomfield High School students.
This next week, March 17-22, Broomfield student council is hosting their annual Wish Week fundraiser for eight-year-old Colton who has been diagnosed with leukemia. Colton's wish is to go to Hawaii, and Broomfield students are teaming up to raise the money to get him there.
Throughout the week, teachers will be competing against each other to collect money for Colton's cause. The teacher whom raises the most money will get to choose the punishment of the teacher who raises the least amount of money. The options for potential punishments are still being determined.
There are many events throughout the week that Broomfield student council has planned in order to raise money. If you are looking for dinner plans next week, start looking here (when attending these establishments, remember to mention that you are there to support Broomfield High School):
Sunday 3/17 – Lucky Pie (Louisville), all day
Monday 3/18 – 5 Guys , 4PM – 9PM
Tuesday 3/19 – Chipotle, 4PM – 8PM
Wednesday 3/20 – Raising Canes, all day
Thursday 3/21 – Old Chicago, 5PM – 8PM
There will also be events throughout the week that students are encouraged to go to:
Monday 3/18 -Llabeyllov Tournament, Eagle Gym starting at 6:30PM
Wednesday 3/20 – Annual faculty basketball game, Legacy High School at 6:30PM
During each school day there will also be spirit wear based off Colton's interest and life:
Monday 3/18 – Dress like your third grade self (Colton is in third grade)
Tuesday 3/19 – Superhero day (Colton likes action movies)
Wednesday 3/20 – Hawaii day (Colton wants to go to Hawaii)
Thursday 3/21 – Jersey day (Colton likes sports, specifically basketball)
Friday 3/22 – Upperclassmen wear black, underclassmen wear red (Colton's favorite colors)
Our goal as a school is to raise $15,000. Last year we raised over $14,000 during Wish Week, so with just a little more magic, we as a school will be able to crush our goal of $15,000 and help send Colton to Hawaii.
If you wish to donate online, visit https://secure2.wish.org/site/TR;jsessionid=00000000.app20119b?px=3130443&fr_id=3155&pg=personal&NONCE_TOKEN=03B0B21511021C69EDB0A177ED98D8F1#.XIvSlShKgdV
About the Contributor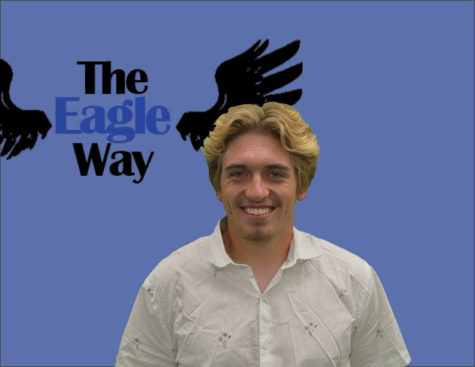 Jack Vanderberg, Web Editor
Jack Vanderberg is a senior and on his second year as working for the school newspaper. This year he is the Website Manager. Around the school, you can...