"Couple Goals" at BHS
Valentines Day – a day to celebrate the love that people share for each other. High school love can be kinda… gross at times, but not when it comes to the teachers at Broomfield who get the privilege of working with their loved ones every day.
Mr. and Mrs. Long, two of the biggest sweethearts in the building, got engaged on Valentine's Day, and it also happens to be their eldest daughter Caroline's birthday, so Valentine's Day is a very special day for them. They love doing everything together at Broomfield High School. From teaching in the same department, to attending student council events and supporting whatever their kids are involved with.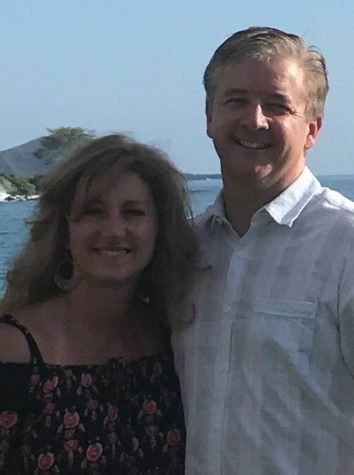 "It's such a treat having her here," Mr. Long says, "whenever we need help with the math classes or want to see each other, we always make it happen, and when we are on each other's nerves we make sure to keep our distance. It's very easy. They always say you should marry your best friend, and I got to do that and I get to work with her. I have it really nice."
They started teaching together 12 years ago at Broomfield, but had been together before that.
"Our first 'date' was Taste of Colorado," Mrs. Long says, "we were both student teaching and we were both dating other people at the time, and we both knew we wanted to date each other. So, it wasn't really a date, but we still consider that our first date."
We asked Mr. and Mrs. Long about each other's favorite things, and they both came out with the right answers.
What is Mrs. Long's favorite ice cream flavor?
Mrs. Long: "Chocolate, I'm pretty easy."
Mr. Long: "Oh chocolate for sure, she loves anything chocolate."
What is Mr. Long's favorite TV show?
Mr. Long: "Oh we watch a lot of shows together, it depends on the era, really. We love ER, Game of Thrones, Hill Street Blues, that's an old one, Seinfeld is always a favorite."
Mrs. Long: "Oh he loves Game of Thrones right now, I'd say that one currently."
Aside from Longs, there are many teachers that work together here in the building. A majority of them, aside from the Longs, work in different departments, which usually came out with a lot of the same responses.
"I think it works really well because she's on one side of the building and I'm on the other," Mr. Davidson jokingly says, "It's great that our vacation times are the same, that's very helpful."
Mrs. Davidson agreed that they don't see each other as much, but says "It's always nice to just check in with him, see how his day is going and touch base a little bit."
The Davidson's have been working together for 14 years after Mrs. Davidson transferred from Legacy. Their first date is definitely one for the books.
"Our first date," Mr. Davidson says, "was in college. We went to a fraternity house Christmas party."
We asked Mr. and Mrs. Davidson about each other's favorite things, and they also successfully answered the questions.
What is Mr. Davidson's favorite meal?
Mr. Davidson: "Tacos."
Mrs. Davidson: "Oh tacos, he's a big taco guy."
What is Mrs. Davidson's favorite soda?
Mr. Davidson: "Oh she doesn't really drink soda."
Mrs. Davidson: "Ha, I'll just say seltzer water."
The Marchi's are another couple in the building that love sharing the work day together… when they see each other, that is.
"Wow, well we don't see each other that much," Mrs. Marchi says, "so I don't get to see him during the day that much. But it's always really nice carpooling together to and from work, dropping the kids at school together. It's also fun that the students both know us, so we get to talk about him and I get to hear about him at work through them."
Mr. Marchi enjoys telling the story about the time he met Mrs. Marchi. "She was temporarily subbing here at Broomfield and we had met each other out in the parking lot. She told me to call her Paige, it was very sassy, I think that's what definitely drew me in."
Mr. Marchi had mentioned that some of the other staff members noticed the connection. "Mrs. Orvis and Ms. Smagh actually tried to set us up together, and it worked, and here we are."
We asked Mr. and Mrs. Marchi about each other's favorite things, and they were both… on the right track.
What is Mr. Marchi's favorite movie?
Mrs. Marchi: "I would have to say Godfather or Miracle."
Mr. Marchi: "Raising Arizona is a long time favorite, but Godfather and Miracle are definitely up on that list, so I will credit her for that."
What is Mrs. Marchi's favorite ice cream?
Mrs. Marchi: "Oh man… something with lots of chocolate, like extreme chocolate moose tracks."
Mr. Marchi: "Definitely something with chocolate, lots and lots of chocolate. That's her favorite."
The Zechman's are another adorable couple in the building and are always on the move throughout different classrooms, so they often get to see each other passing through the hallway. "The best part about working with her," Mr. Zechman says, "is getting to see her every day, of course, but also that she brings snacks and stuff like that."
Mrs. Zechman is on the same page as Mr. Zechman. "It's nice because if there is anything we need to touch base on," Mrs. Zechman says, "we can do that. It's also awesome when he brings me lunch or coffee sometimes."
The two teachers have been working together at Broomfield for 10 years, and knew the answers to the challenge questions very well.
What is Mrs. Zechman's favorite ice cream?
Mrs. Zechman: "Oregon blackberry."
Mr. Zechman: "Oh, I know this! Oregon blackberry, specifically from Goodtimes."
What is Mr. Zechman's favorite movie?
Mr. Zechman: "Eh I don't know, Star Wars or Lord of the Rings or something like that."
Mrs. Zechman: "Oh he likes action movies, so stuff like Star Wars, he likes that one show Game of Thrones, and Lord of the Rings, all that action movie stuff he's into."
Here at Broomfield, love is in the air everywhere, and not just in those awkward couples in the hallways, but in the teachers who have been celebrating their love with each other for years. The teachers here at Broomfield High School put a whole new definition to "couple goals."
About the Writers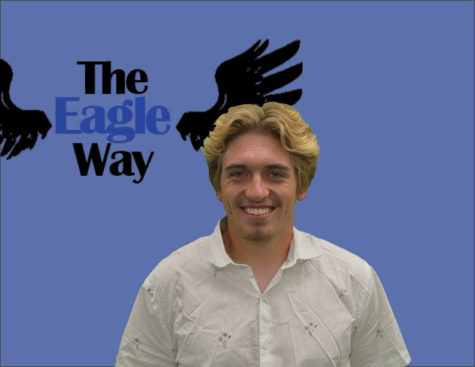 Jack Vanderberg, Web Editor
Jack Vanderberg is a senior and on his second year as working for the school newspaper. This year he is the Website Manager. Around the school, you can...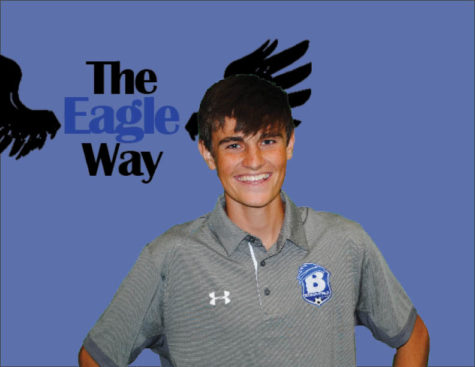 Cade Austin, Staff Writer
Cade is a senior at Broomfield. He is someone who really enjoys to play sports and to compete. His sport of choice is soccer, and he has done a season...