Final Goodbye for Administrator Craig Boccard
Hang on for a minute...we're trying to find some more stories you might like.
Mr. Craig Boccard is retiring by the end of this year and feels that it is time to go and to tryout some new and exciting things in life. He will surely be missed here in the hallways and at all out of school events.
Here below, Mr. Boccard answers some questions about his time here at Broomfield and what he plans to do next in the near future.
What made you make this (tough) decision?
This is my 40th year in education and I just figured it was kind of a good time. I have had a great year, I've enjoyed things and I'd rather go out when you feel you have a little bit left in the tank and not go out because people want you to go out.
How do you feel knowing that you are leaving? What are your emotions?
I love what I do. I've been very fortunate my whole life to get to work with incredible young adults and I've gotten to coach in addition to the various roles that I have had as a teacher, as an administrator, and down the line there and so I am going to miss that—I'm going to miss that a lot.
What are you looking forward to?
I am looking forward to more time with my wife, maybe trying something out that I have never tried before and to see how all of that goes.
This may or may not be hard to answer, but who will you miss the most that you have worked with over the years?
I've got so much respect for so many people here on the staff, I am absolutely going to miss them. I don't want to just single out individuals. I go down the hallways and see students here and they treat me very well and I'm going to miss that. I'm going to absolutely miss the positive interactions that I have there even though they're not always positive, but 99 percent they're great. So I'll miss being apart from all of that.
After being both an assistant principal and an AD, which job did you like better?
They both presented different kinds of challenges. What I would have liked was to do the athletic director thing just a little bit longer because there was a lot of first this year, some of them went well and some of them were like "oh no." It was a scramble for sure and when you're unsure of what you are doing that is not always comfortable.
How long have you been working here at Broomfield?
This is my 20th year. It's been a bit here.
What was your starting position? (ex: Assistant Principal?)
When I moved to broomfield from Hinkley I was actually 60 percent assistant principal and mainly did student services and 40 percent language arts teacher.
How long have you been coaching track?
This was my 30th year. I have had 21 here at Broomfield because actually my first year of high school coaching track was here at Broomfield and I've had the 20 years since I've come back.
Do you plan on going on any vacations with all the free time?
I need to go fishing with my boys for a week right after I get done. That's something we've done for forever. So that'll be my first gate out of town.
Thank you, Mr. Boccard. Your time here is appreciated and we will all miss you.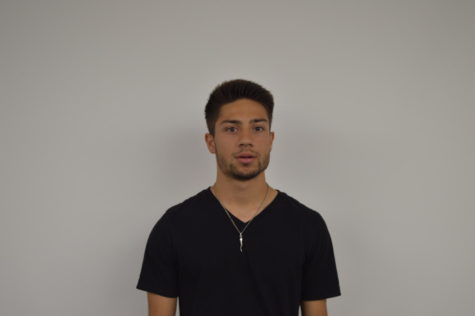 Gianni Martinez, Staff Writer
Gianni Martinez is currently a senior. He is one of five captains of the varsity soccer team. He has won a state championship with the boys soccer team...