The Final Stages to Graduation
Hang on for a minute...we're trying to find some more stories you might like.
The school year is almost over and there is still so much to do and think about. Although graduation is around the corner, we seniors still have to finish these last few weeks of school. For us, it seemed like school was over when it started. This problem that each senior goes through every year has been diagnosed as a case of senioritis. Its symptoms include: procrastination, zero motivation to do school work or to even go to school, and the urge to hang out and have fun instead of going to school. All we want to do and all we look forward to is graduation. To hear our name as we walk up to grab our diploma, our piece of paper that tells us we are free to go, is a great and unexplainable feeling. After four long years of high school, students want to start something new and look forward to being on their own. Although, we are looking forward to being "true" adults, I'm sure most of us aren't excited about paying the bills and working so we can have some decent money while we live our adult lives.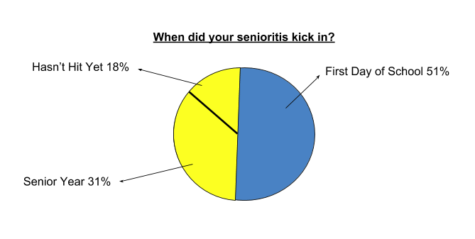 What's next for us on the long road to graduation? We still have our finals to take, homework to make up, and we still have our annual Eagle Flight assembly. During our last and final assembly, each class goes through a transition from their current class to the next: the freshman are now sophomores, the sophomores are now juniors, and the juniors are now seniors. As for the seniors, they do a walk out around the eagles gym as everyone else cheers and congratulates us as we are transitioning from seniors to adults, going on to something bigger in our lives. We also reminisce the memories and the goals we have achieved during the past year. The assembly then ends off with a farewell speech from a voted teacher from the senior class who will wish us luck and give us advice for whatever path we choose.
After completing everything on the to do list, graduation day is finally here. The seniors all dress up and put on their gowns and caps along with a little tassel to keep as a souvenir. Soon after we accept our diplomas and celebrate our four years of high school with a graduation party, we can finally move on into the big world.