Teacher Madness: Who They Got…?
Hang on for a minute...we're trying to find some more stories you might like.
March Madness is entering the Sweet 16 Round this week, and the tournament is definitely living up to its name this year. Amongst the madness of the tournament remain 16 teams, and Broomfield High School teachers attended four of the remaining schools. I talked to a few of these teachers:
Ms. Carroll (Spanish) – Purdue
Mrs. Edbrooke (Social Studies) – Syracuse
Mrs. Harkness (Math) – Kansas State
Mrs. Marchi (Math) – Michigan
I asked them what their brackets looked like, and this is what they said: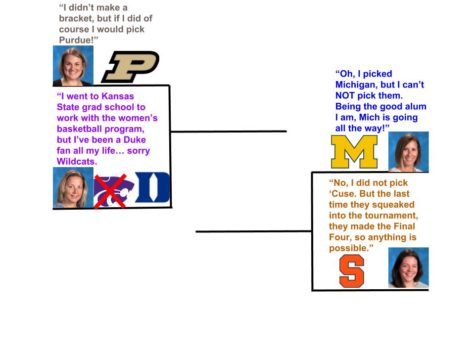 The tournament resumes tonight, where 16 teams will be battled down to 8. Here is the schedule for the games:
Thursday, March 22
No. 7 Nevada vs. No. 11 Loyola (Chicago) | 5:07 p.m. MT | CBS

No. 3 Michigan vs. No. 7 Texas A&M | 5:37 p.m. MT| TBS

No. 5 Kentucky vs. No. 9 Kansas State | 7:37 p.m. MT| CBS

No. 4 Gonzaga vs. No. 9 Florida State | 7:59 p.m. MT| TBS
Friday, March 23
No. 1 Kansas vs. No. 5 Clemson | 5:07 p.m. MT | CBS

No. 1 Villanova vs. No. 5 West Virginia | 5:27 p.m. MT| TBS

No. 2 Duke vs. No. 11 Syracuse | 7:37 p.m. MT| CBS

No. 2 Purdue vs. No. 3 Texas Tech | 7:57 p.m. MT| TBS
Now you know who THEY got, but who do YOU got…?