Young Eagles – Flying Out From Under Their Siblings' Wings
Hang on for a minute...we're trying to find some more stories you might like.
In every class, there's always the favorite student. On every team, there's always the favorite team member. And in every family, there's always the favorite child. Whether it's told or untold, it's the truth that lies in every teacher, coach, and parent. But imagine competing against the same person for favorite student, team member, and kid.
Being the oldest in the family is easy: there hasn't been a precedent set. There is no feeling of having to live up to anyone and there isn't anyone to be compared to. A lot of times, younger siblings feel like they have a lot to live up to. Junior Andres Ocampo is a great student, a great athlete, and a great friend. His older brothers, Armando and Ricardo, are nothing short of that. Armando went to three State Championships for Soccer, received the BHS Outstanding Citizenship Award twice, earned the Boettcher Award, and has been a part of numerous programs like NHS, Blue Crew and Latino Leadership. Ricardo played soccer at Broomfield for two years before moving up to DA, and won State Championships for Cross Country. The Ocampo's are nothing short of talented. Andres only wants the same. "Their accomplishments really make me work harder, but it's definitely hard. They never rub it in my face, and they're always trying to help me to get there. They truly are my greatest role models and two of my favorite people in my life." Soccer is clearly a common passion of the Ocampos, but Andres doesn't feel like he's pressured into playing it, nor is he pressured into achieving what his brothers did. If anything, he is more motivated because of them. Armando feels the same way. "My brother is a different person, he will undoubtedly have personal successes that are unique to his own life, though I hope my examples can serve as motivation."
Andres isn't the only one who has his own mindset of goals. Junior Nolan Wolff is striving to do the same. His older brother, Spencer, now graduated, was and still is a well known student around the school for his presence in the community; varsity tennis, varsity basketball, Senior Class President, and more. But Spencer described himself as "just part of the class." He said his class wasn't full of accomplishments, but was just contributing to change the culture for better. Nolan takes his brother's same ambitions. "Being successful in different ways, doing it in different forms, it just extends the Wolff family name. I don't do something just because my brother did it, I just do it because I enjoy it myself."
Sophomore Cailin Mindoro lives similarly. Her older sister, Maiya, was a large contributor to the Broomfield community, serving as Senior Class President, Circle of Friends President, Student Council President and as a state championship competitor at track. Cailin participates in many similar activities, but not in the sense of trying to live up to Maiya. "We're actually pretty different people. She told me how much fun she had with every single thing, and I already knew what I wanted to do, so her experience was just an assurance that it'd be something I'd like to do."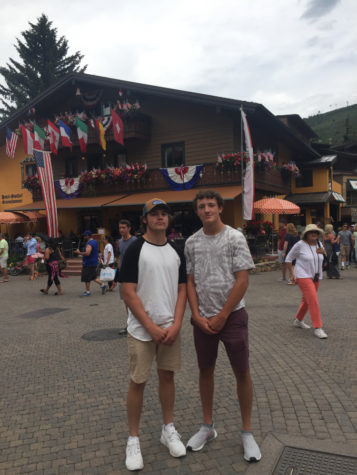 Some students are not only stuck living up to their siblings, but their parents as well. Jenna Burgesser and Stevie Croell both live under two athletic families with athletic parents. Stevie's dad, Mike Croell, takes a great amount of pride in his personal success as a girl's basketball coach and in his two older kids, Katie and Chad. But Stevie doesn't struggle with that. "It's kinda like a competition, you want to one-up each other eventually. It's not really pressured, it's just the standard and what I'm shooting for." Jenna, on the other hand, has a different perspective. Jenna's dad, Tom Burgesser, said that the Burgessers are best known for athletics. "I'm very proud of that, for myself and my four kids," said Tom. Jenna said her relationship with sports is interesting, particularly basketball. "If I ever stopped sports in general, everyone would think, 'what is she doing? She's a Burgesser, she's supposed to be an athletic star… I'm just not that person, but in a way I feel that I kinda have to be. But I want to do something worth my own time and effort. I've become more passionate about flying planes and travel. That's what I want to do with my life."
Jenna and Stevie look at the same situation in completely different lights, but there was one aspect their stories, along with everyone else's, had in common: their siblings were big supporters of their decisions. "My siblings always cheer me on and want me to achieve what they were able to," Stevie explained. When Jenna was asked if her siblings support her, without hesitation she said, "Oh yeah, totally." Cailin absolutely adores her older sister. "Maia never rubs it in my face, she's always humble about everything she did for Broomfield." Nolan Wolff still looks up to his brother's examples, too. "Everything I do doesn't correlate to what Spencer has done, but he is definitely a factor in those decisions, for sure." Andres speaks very highly of his brothers, or, as he calls them, his "biggest role models". "When we were little I would always play and compete with them, and they were my form of goal-setters." Their siblings were not one of their obstacles; they were one of their fans. The competition between siblings could be thought of as a race, a sprint between who could be the most popular or most loved between peers, coaches, and family. It is a race, but not against each other; it's a relay. They're living their life, running their race, passing the baton to the next sibling. Brothers and sisters can be a nuisance, for sure, but behind all the fighting over shirts and complaining about who always gets their way, all they really want is their family to succeed.