Athlete Of The Week: Zoe Zinis
Elaine Webber, Staff Writer
May 12, 2016
Hang on for a minute...we're trying to find some more stories you might like.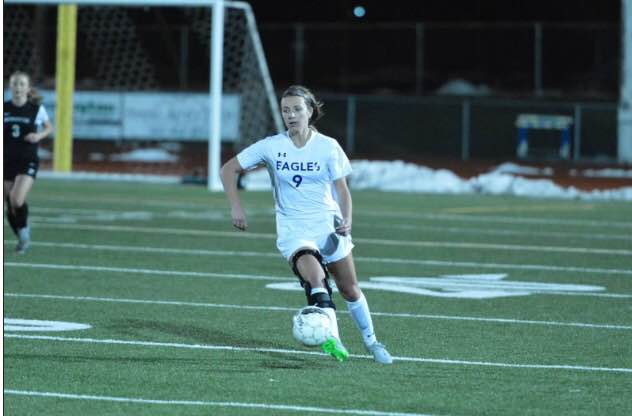 A good forward is scared to go up against Zoe Zinis. A good forward knows that her 1v1 defending is arguably unparalleled on the team. A good forward knows that even if she did manage to get around Zoe, she probably couldn't outrun her. And, even if by some miracle bestowed by the soccer gods was faster than her, knows that within seconds she'll be hit with a perfectly-timed slide tackle. A tackle with the precision of a sniper, and so clean that not even the most convincing flop could gain her the foul.
Zoe Zinis entered ninth grade at Mullen High School in Denver. After playing soccer there for a year, she made the wise decision to transfer to Broomfield, where she already knew many of the players in the soccer program and where she has made an undeniable impact in all three of her prep seasons.
Zoe has been a part of two state runner-up teams in her two complete seasons with the program, and keeps the back line organized in even the most stressful of games, talking them through plays and cleaning up mistakes. But she's versatile, too- always willing to step up into the midfield when needed, playing up front and directing the play away from the defense. And she can score- she's created many opportunities with either her free kicks or by running on to some poor unsuspecting goalie in order to get on the end of a corner. But as much as Zoe the player seems intimidating, Zoe the person seems carefree. If you're ever close enough at practice to hear Zoe after she takes a bad touch, or misplays a ball, you'll hear her laugh at herself. The team is grounded in her lightheartedness and quiet leadership, and she will be missed next year as she continues her soccer career in the fall at Jacksonville University in Florida.