As someone who committed two and a half hours to the film this past week, I found it to be an amplification of the beauty and detail put into the concert itself.
To be clear, for anyone thinking this is a documentary of the tour production (like I previously thought), it is not. It is purely a movie of the concert, but that does not detract from the entrancing effect of the film.
This summer, I was fortunate enough to attend Swift's concert in Denver, so for me, the movie served as an extension to the already unforgettable experience.
For others who did not attend the concert, the movie was a near-perfect representation of the actual concert with the exception of a few minor aspects cut out for time's sake and, of course, the fact that it is not in a stadium with 72,000 people.
With that said, it did not stop the diehard Swifty fans from dancing in front of the screen and clapping after every song. While in this specific showing, there was audience participation, the Swiftys remained relatively tame compared to recent videos on TikTok of fans treating the screen like they are inches away from Taylor herself.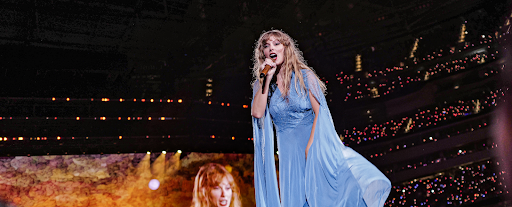 This prompts the debate of theater etiquette: Should Taylor Swift fans be more cognizant of those trying to enjoy the movie?
At first, I thought yes. People attend theaters to experience a close connection to films with minimal distractions. The Swift fans singing and dancing disrupt that connection and ultimately subtract from the movie experience.
Then I considered the point of the Era's Movie. Swift released it as a way to touch more people with her tour of the century. Limiting fans' behavior in the theater defeats the purpose of granting an unforgettable experience to everyone.
This, though, must be taken reasonably. Actions such as shining lights and blocking the view of the screen are inconsiderate and inevitably rob others of their enjoyment. The movie was most likely expected to evoke passionate behavior to a certain degree, but human decency should be considered.
For someone debating whether to see the movie or not, in my biased opinion, I think the film offers a unique and beautiful representation of the concert. Although it is not the type of environment for a calming night out, I do recommend the movie for spirited Swifties who are ready for a three-hour production of her songs.