On to the Next Chapter!
34 Eagles were celebrated Wednesday night (4/19) for committing to a college for their sport.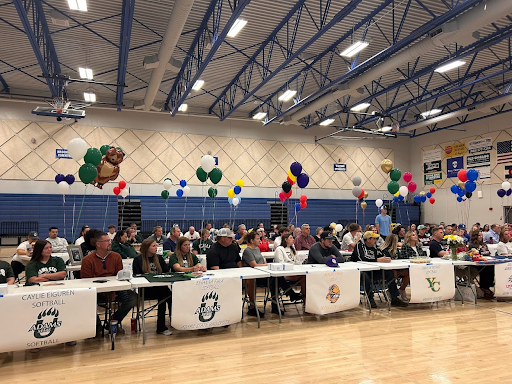 During the event, Mrs. Ramsey gave a speech for each athlete from their coach here at Broomfield High School, highlighting their accomplishments over the years, and wishing them luck for their future.
Of the thirty-four students committing, eight of them are women's soccer players. Heading to Denver University to play soccer, Micheala McGowan, said, "I've been verbally committed since 2021 so it's so super exciting that it's finally happening!"
All but one senior on the women's soccer team is committed to play soccer in college. The other seven athletes committing are, Caroline Billings, Reagan Kotschau, Macee Mckenna, Kayla Rich, Nicole Choren, Bailey Giddings, and Stella Roanne.
Six football seniors are also moving on to play at the college level: Nick Petrich, Devin Furuiye, Luke Francis, Garrett Keeler, Xavier Nieto, and
Connor Tanner. Tanner is headed to play at the U.S. Marine Academy in Kings Point, New York.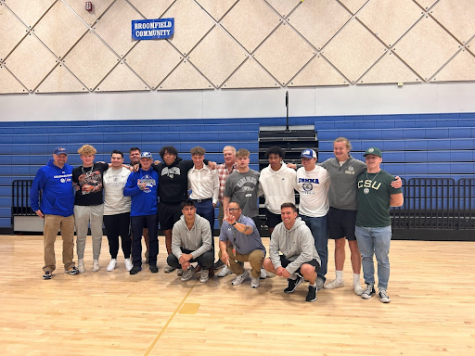 Headed to the same school for softball, Adams State University, Breanna Fiala and Caylie Eiguren signed Wednesday night. Going to play baseball together at Highland College is Michael Cannata and Andrew Dalconzo.
Also going to play softball is Charley Pitrat, and for baseball Jacob Rice and Luke Blackmon.
Three lacrosse athletes, Charlie Burke, Derek Duplechin, and Graysen Jolly, are continuing on their lacrosse career, as well as two swimmers, Elli Eiffland, and Kylie White, and two volleyball players, Kennedy Nelson and Lillia Niel.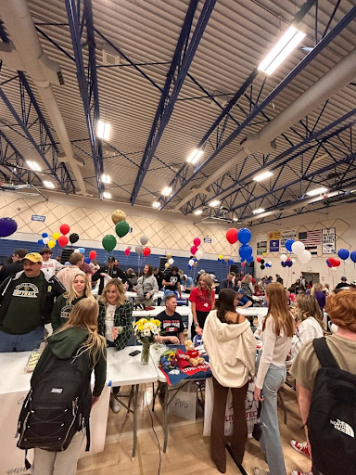 Only one athlete from these sports signed: From women's basketball, Sophie Christopher, from track and field, Maelynn Higgins, acro tumbling, Maren Irvin, men's basketball, Quinn Galka, from golf, Ashley Fiala, and from cheer, Lauren Weever.
Weever is going to cheer at the University of Colorado, and Higgins will be running at the University of North Carolina.
Of these thirty-four athletes, twenty-six of them will be going out of state this fall, with the remaining eight staying close to home in Colorado.
Friends and family celebrated the commits after the speeches had concluded.