They're back!
Broomfield Cheer's return to Orando, Florida.
Broomfield High school cheer is making a comeback this season. On top of many achievements, the team will be competing at the National High School Cheer Competition for the first time since 2015.
Taking a look back on their season so far, the cheerleaders finished first at the Front Range League Competition, and finished sixth overall at the CHSAA State Competition. Broomfield Cheer hadn't made it into finals at state for eight years before this season.
Their achievements were in a new competitive division this year, 5A Gameday. With a new coach and a new division, the girls have high hopes for Nationals in Orlando, Florida this February.
The entire team has been working hard this year, they have been a huge presence in the community, at sports, and have been at almost every event that has taken place at the high school, all in addition to competing.
From the outside, Teddy Darkey, '23, said "I think it's awesome that cheer is always bringing school spirit — being at every event — and I think it's cool all their hard work is paying off, finally going to nationals." Darkey attends many Broomfield events and sports where the cheer team performs.
This is done with many hours of work. A practice consists of cardio, strength, skill work, choreography, and many full outs. Lexi Reifshneider, '25, said, "We start with a full out to see what we need to work on for the rest of the practice."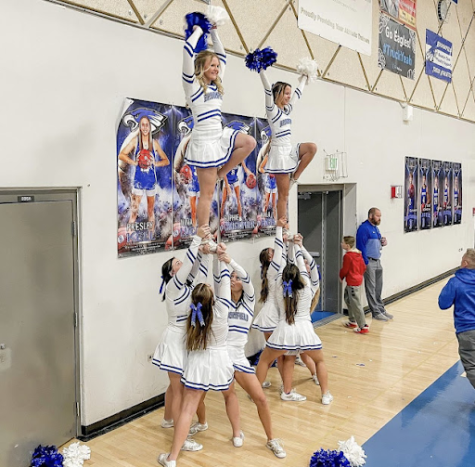 A full out is a complete run of their entire routine, doing it exactly how they'd want to do it on a competition day.
"We also spend a lot of time drilling our technique so it'll be perfect for our routine," said Reifshneider. Landing their tumbling can make or break a performance.
With less than three weeks left until nationals, they are working harder than ever. Samantha Jaeger, '23, said, "We bring in other people to watch our routine and help give us corrections."
Nationals begin on Friday, February 10th with preliminary rounds. The semi-finals and finals will follow on the 11th and 12th.