Back-to-Back
For the second time in two years, the gymnastics team wins the 5A state championship.
On Thursday, November 3rd, at Thornton High School, Broomfield Girls Gymnastics won the state championship for the second year in a row. They placed high for the beam, floor, and bar events, and they set a school record in the vault with a score of 147, securing their spot as the state champs.
Leading up, the girls worried most about Mountain Range High School. They knew the competition would be tough this year, but the intimidation had little effect on their eagerness to win.
The gymnasts did not let the strong competition get to their heads. "During the competition I wasn't that nervous because I knew however we placed as a team I would be proud of myself and my teammates," said Kaya Duncan '25.
The coaches played a huge role in Broomfield's success this year. Helping aspiring girls from many schools around Boulder Valley School District — like Centaurus, Monarch, Fairview, and Boulder High to name a few — to compete and form lifelong relationships was just part of their job.
Thanks to the time and effort of the first-year Head Coach Mark Bogoger and his assistants, the coaches did an incredible job guiding the team to victory.
The girls of course played a huge role as well. They showed their grit and determination by starting out as the underdogs and then fighting their way back to the top.
"They struggled at times this year and they got some lower scores," said Athletic Director Steve Stelton, "but they always had that mindset 'I'm building towards a state championship,' and I think those girls deserve a lot of credit for not getting frustrated when they didn't have the best scores and finishing third or fourth in the league event and then two weeks later they're winning the state championship."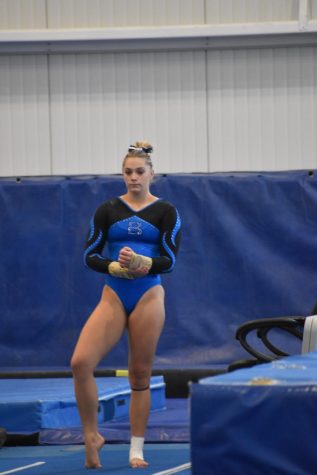 Not only this but the girls built on each others' successes to have a winner's mindset.
"What I love about our team is we've always thrived in the team environment of gymnastics because the focus is to use each other to build momentum and be positive and support each other and it makes our team I think unique in a lot of ways," said Shelton.
Mountain Range High School ended up placing second behind Broomfield, making the win even sweeter.