A Heartfelt Moment
Moments make the most wonderful memories and are the things that people can always remember. Moments can be happy, sad, and in between.
Moments can have multiple effects on others who were not in the "actual" moment, but any heartfelt moment is a moment that deserves to be shared.
Like Dr. Seuss once said, "You will never know the value of a moment until it becomes a memory."
Eagle Way: Ms. Martinez, was surprising Izaiah at his football game your initial plan or did you have other ideas of how to surprise him?
Sabrina Martinez: It was not my initial plan. At first it was to surprise my kids at the airport going to New York, but I came home sooner than I expected. I received my flight info and that's when I knew what day I'd be home and his dad reached out to his coaches. His coaches came up with the idea.
EW: Izaiah, what was your initial thought when you saw your mom? Were you caught off guard?
Izaiah Benavides: Honestly, I didn't even know it was her. I had to look at her badge and make sure it said Martinez. She's a triplet and her sister was there, so I had to make sure it was my mom. I was caught off guard because I thought it was going to be a regular football game.
EW: What were you feeling when you saw your mom?
Benavides: Joy because I hadn't seen her in a year and a half.
EW: Ms. Martinez, what were your feelings and or how did you feel when you surprised Izaiah?
Martinez: I was so nervous and scared. I hadn't seen my son in a year and a half, I just heard from my sisters that he's getting better at opening up and talking. That he has muscles and a style that he likes and that he doesn't care what people think about it. I was of course relieved to hug him again.
EW: You have other kids that you surprised, too. How did it feel when you left compared to when you came back?
Martinez: I have two other kids, my daughter, who attends Broomfield High and my younger son, who is in the fifth grade. All that mattered to me was seeing them again and holding them. When I left, their lives didn't stop. It kept going. When I left them they were a year and a half younger. They didn't have their mom, and I'm sure it was challenging for them to keep moving on without me. I am happy to be home with my kids, no one ever talks about how hard the adjustment would be. Things are not the same as they were when I left, so I have to adapt to their normal, which is challenging, but getting to know my kids again is so rewarding because they are different in their own ways. I'm grateful and thankful I am home with my kids. Some don't make it home.
EW: Izaiah, are you glad your mom is back?
Benavides: Yes. I'm happy she's home and safe. She takes very good care of me and my siblings.
EW: Your mom played a song when she surprised you. Did the song make you emotional?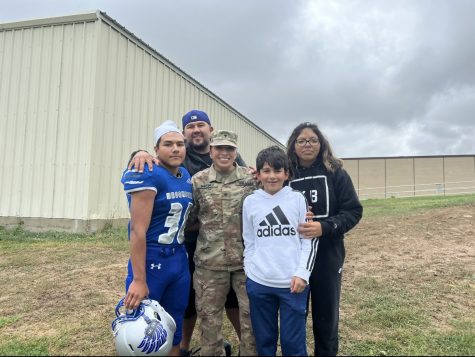 Benavides: Yes, but in a good way. It was all very exciting because the song revolved around what was happening.
EW: Ms. Martinez, what song did you play, and why did you choose this song?
Martinez: I played "Coming Home" by Diddy. My initial plan was to hold the speaker up like they do in the movie, A Night At The Roxbury. This is my favorite movie but I was too nervous. I was shaking and so I left the speaker down. I picked the song because of the lyrics: "I'm coming home/ back where I belong…" With my kids is exactly where I belong.
See, a moment just made an impact on your heart.