You Have A Voice
Have you ever had opinions or thoughts that you think deserve to be heard but no one ever takes the time to listen? Maybe you've been in a situation where you tried to speak up but got interrupted.
Well, there is a club at Broomfield High that allows students to voice their own opinions and as a result, each voice will be heard. Feel better?
Broomfield is a welcoming and diverse school.
Although Broomfield High is a great school, it can always continue to improve.
Teachers don't always let students talk and voice their own opinions. Teacher Alexandria Kelly recognized this and decided to make a club called Student Voice so that students' opinions could be acknowledged.
With this, Kelly decided to take charge. She said, "I think that a lot of times students have some perceptions and thoughts that are disregarded because they're younger — adults can kind of use that to invalidate their feelings about the matter. I think that school serves one purpose and one purpose only, and that is to support students. Some individuals don't take students' perceptions and experiences seriously, and by doing that we are failing our fundamental job."
Student Voice is a group of students — all are welcome — that addresses students' worries and concerns for those who are too afraid to speak up.
Most of these students who don't speak up are students who don't think they have a voice because of the fact that they're not influencers, perhaps because of the fact that they don't play sports or do anything that involves an audience.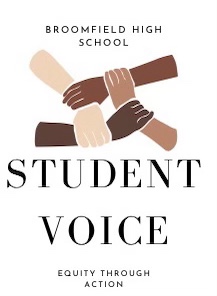 "Student Voice is something that me and wonderful Grace Mosley ('23) thought our school needed to engage every student and make sure that every student's voice is being heard, not just the students who are looked up to," said Kelly. "When I see how active and engaged my students are in this club, it gives me hope for our future."
Education also plays a big part in Student Voice around the world. Dwight Carter, Principal of New Albany High School in Ohio said that "Students are major stakeholders in our school community. The more we engage them to use their voice, the better we can serve them, and the better relationships we'll have with them. In the end. We all want the same thing, which is to increase student progress and student achievement, and since students are a part of that, their voices are important. They can embrace the things that we are doing, and we can create the best learning environment for them."
Since each of us are students, helping others join in and speak up about the topic of education, and many other topics, we can get more and more students involved and encourage them to do more.
Hearing something from a fellow student can impact your way of thinking rather than if you hear something from an adult. In the end, it is a partnership that goes both ways.
Everyone around the world should know that their own voice is extraordinarily important and, no matter the circumstance, no matter if people think you're right or wrong, your opinion will always matter.
Be the change so that this world that we're living in now can be exceedingly better in the future.
If you're a student at Broomfield High and are interested in joining Student Voice, please contact Alexandria Kelly at [email protected] or Lisa Voss at [email protected].
Be the change you want to see.