Skate City Bonding Event
Where BHS' Student Voice club created a safe space for closer relationships and new recruits
Student Voice is a club here at Broomfield High School where students get the opportunity to voice their opinions and be a part of change at school. The club mainly focuses on finding ways to fight against discrimination, exclusion, and inequalities of minority groups and many others.
This is why another club member, Iris Stanfill (12), joined Student Voice. She said, "I joined Student Voice because I believe that every student deserves the right to feel safe at school, and in order to create that environment, we have to promote equity and inclusion for all students."
Student Voice has also given many students the opportunity to feel like they have an impact here at Broomfield High.
On the evening of Saturday, November 6, Student Voice decided to have a bonding event at Skate City to incorporate new members and allow the club to get to know one another a bit better.
We (I am a member in Student Voice) wanted to make sure everyone felt welcomed and included in this event, so we made sure to plan this to a T with schedules, pricing, and publicity.
It was an extremely important event for Student Voice because our group understands the impact we can have at Broomfield High, and, as Stanfill said, "I think that Student Voice is important because we finally have a group that is demanding accountability and catalyzing change for our students in the school community."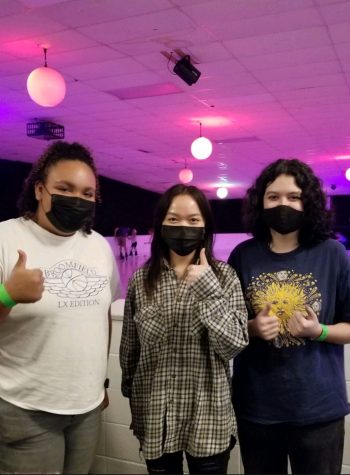 The event started at 6:00 p.m., and when I got there with my guest, we saw that everyone was ready and set to hit the rink.
I began to get butterflies as I heard the music and saw the flashing lights because all the memories came flooding back. I used to spend a lot of time with family and friends at Skate City as it was affordable, and I loved to roller skate. Yet, when I was younger, I used to hate talking to other people and felt super uncomfortable and not welcome in large groups. But now that I've gotten older, I've been able to have discussions with others more easily, I've become more confident in public spaces, and I've gotten more comfortable with helping others feel included and equal to the rest of their peers; I've become more confident using my own voice, which seems to parallel the whole purpose of Student Voice in the first place.
During the event, some of our club members seemed experts at skating while others were new to it, but that was irrelevant due to the fact that we were all there to have fun. Skate City played many different types of music, but it was mostly old, nostalgic pop hits which everyone loved. The neon lights were set up to match up perfectly with the song. Then, they would sneak in the classic games that I remember participating in that involved big, fluffy dice.
Even though I was racing around the rink, I made sure to greet everyone that came to this event, and it made me extremely happy to see the club outside of school.
This event benefited Student Voice in such a major way. "I think that the Skate City night allowed group members to get to know each other outside the classroom, and that kind of bonding is imperative to creating a successful team environment," said Stanfill.
Once we were all tired and sweaty, we made a pit stop to take a picture with the whole group so that we could broadcast this bonding event; some of us also made sure to stop by the concession stand to grab some food and Icees. Then, we raced back to the rink to enjoy the last few songs, which went by too fast.
By 8:00 p.m., the night had come to an end, and we all said our goodbyes so we could head home. Overall, I think this bonding event was a success and everyone seemed to have an amazing time, including senior Emily Ho, who said, "It was a really great way to team-bond and have fun with friends. I hope more people are interested in checking out Student Voice after that event."