Eagles Take On ThesCon
The BHS theatre troupe heads to the Colorado State Thespian Conference.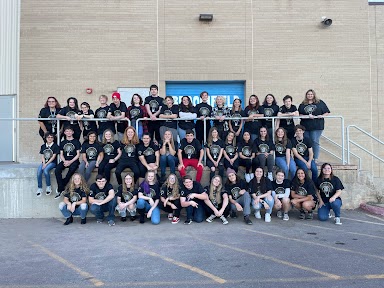 "Spots in five."
"Thank you five!"
Five, a signal from directors and stagehands to the actors, a warning that all troupe members must be in their places within five minutes. The show will be starting soon.
With Ms. Bryner as the director and the students as the actors, Broomfield High School has been able to continue its theatre program after working through several setbacks. Theatre is back.
Live theatre has been around for hundreds of years, dating back to the sixth century B.C., from ancient Rome to Shakespeare England. It's a prominent part of history and one that people of all ages find joy in. From watching the birth of our nation in a hip-hop rap, to discovering the true story behind the Wicked Witch of the West, theatre has a way of transporting an audience through different periods of time, taking them on adventures.
For many actors and performers, the Covid-19 shutdown was catastrophic. Professionals were no longer able to continue with their main source of income, and students everywhere had to adapt to losing the place where they felt most comfortable.
At Broomfield High School, the students persevered. With the school musical last year, Emma, students took to the stage again, making adjustments wherever possible to ensure the safety of everyone. This year, the theatre department has already put on a production of Julius Caesar and Too Much Light Makes the Baby Go Blind. Plus, auditions recently took place for the spring musical, Chicago.
However, Emma was just the beginning. This year the troupe will be attending Denver ThesCon from December 1 through December 4. As of right now, there are only three students in the whole school who have gone to ThesCon: Lilly Dragge (12), Reagan Blanton (12), and Sydney James (12). Everyone else is stuck curious and unknowing of what to expect.
On Thursday, November 4, 2021, Ms. Bryner hosted a meeting in her room during common lunch to go over the schedule and the jam-packed days lying ahead.
ThesCon will be hosted at the Colorado Convention Center, and everyone will be staying across the street at the Embassy Suites in downtown Denver. In the three days there, students will have the opportunity to take a myriad of workshops, learning about costume design, play writing, stage makeup, swing dancing, acting, and more. There will be plays performed by high school students every night for fellow troupes to watch.
Blanton said, "All the workshops, depending on which ones you go to…are really helpful at making you more comfortable during auditions."
This year, our theatre group is bringing Clowns with Guns, a play picked out by Ms. Bryner.
"Clowns with Guns is actually a mean play. It's mean to the audience; it's mean to the performers. It's a mean play, but it has an important message about the way we view school shootings in this country," said Bryner. All performers' parents have approved of their child's participation and are aware of the intense and gruesome content.
The theatre department looks forward to the future, getting to learn from fellow leaders and becoming closer with the rest of the troupe. Bryner said, "I feel like theatre gives kids confidence to be who they are instead of having to hide behind the acceptable face of high school. In theatre, kids can open up and feel like they belong to a family."