A First-Place Drawing From a First-Place Winner
BHS' own Sophia Cino wins the Broomfield 'I Voted' sticker contest.
During various election cycles, the City and County of Broomfield has worked to involve young members of the community in the election process through their "I Voted" sticker competition. This year, participants had the opportunity to design their own take on the classic "I Voted" sticker for the chance to win a gift card. Submissions were accepted between August 23 and September 10. One of the winners, Sophia Cino (9), came from right here at Broomfield High School.
Going into the contest, Cino didn't really see it as a competition: "My thought process going to the competition was just doing it for fun. I didn't really think of it as a competition, just something to do. I think it's cool to get out and do something for your community," she said.
When joining the competition, Cino wanted a fun chance to prove her drawing skills, as well as an opportunity to demonstrate that she is a good artist.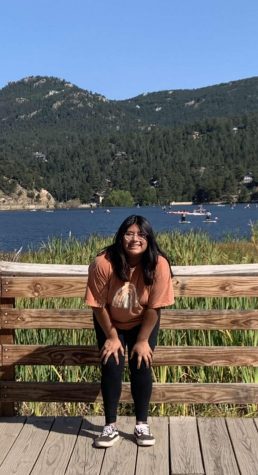 For Cino, thinking of an idea was hard; she went through a lot of paper coming up with ideas for the competition: "I had to think about it for two days. I went through lots of paper trying to think of something."
When thinking about first place, Cino knew that it was a possibility, and she described the competition among the other participants. She thought that it was probably stressful and that they were probably going through the same stress she did; not knowing what to draw and having to come up with something was probably pretty difficult, she said.
She also said, "[The other members of the competition] were pretty good."
Cino mentioned being proud of herself after doing the competition: "I was really excited. I was happy. I was very proud of myself."
Cino also talked about what she did when she found out that she won and described the prize that she got. She said, "I got an email from the mayor's office saying that I won." The email also talked about her prize.
She received her prize at the mayor's office, getting a $25 gift card to iPIE, as well as a $75 Visa gift card. She used her winnings to purchase gifts for her family for Christmas.