The Extraordinary Experience That Is Meow Wolf
And What Secrets It Hides Inside.
If you have the desire to be inspired creatively through art, exploration, and play where imagination will transform your world, make sure you purchase tickets at Meow Wolf and support this immersive art experience that began in 2008 as an informal DIY collective of Santa Fe artists. I promise you the Denver employees will make sure they encourage audience participation and make you feel welcome.
Starting off in the parking lot, standing in front of the big, grey building, you make your way to the line of entry. After security lists off all the prohibited items and puts you through the metal detectors, you are in. Begin your interactive experience by checking in to get a key card; this card will be a lead for a wonderful journey through the exhibit. The actors will greet you with great enthusiasm and direct you to the elevator, where you can decide what level you will begin on.

My favorite parts of the exhibit
1. You may begin on level three, walking into an Alice In Wonderland-type area with every color of leaves, flowers, and mushrooms spread over massive tree roots that crawl up the walls and are soft to the touch. There are vibrant lights hanging from the ceiling and built into the sculptures. If you look close enough, you can spot a mystical gremlin creature with orange fur, sharp claws, bat-like ears, blue glowing eyes, purple flowers growing out its skin, and more blue lights behind its head; you can spot this sculpture hanging onto a tree root.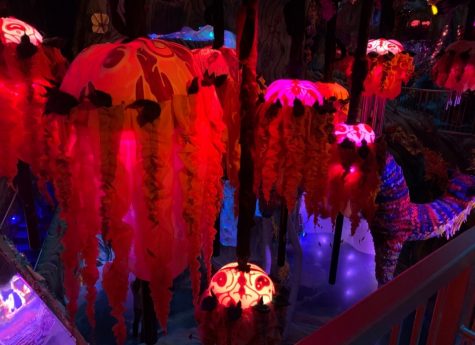 2. When you continue walking, you may begin to notice the number of small rooms and staircases. Some rooms look like they have white clay walls with seashells and have bright white lights, while others are space pod-type rooms. After you enter all the small rooms you can stand on a balcony with orange and pink glowing jellyfish that are so close you can almost touch them.
3. Once you finish up in the bathroom you will be back in the Alice in Wonderland area. See if you can spot the glowing woman. She is laying on the huge tree and her long, beautiful hair is flowing down like a stream. She is blue and purple and sparkles in the lights.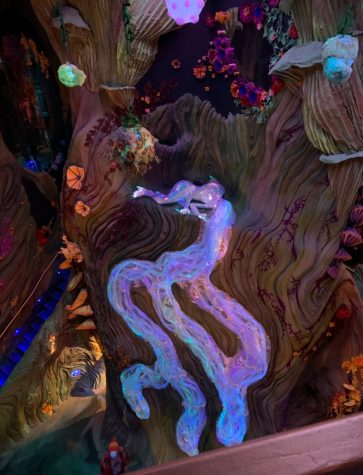 4. Take the elevator to Floor Four where you can see the entire view of the futuristic city that has a sky of stars. It might make you wonder, will this be what the future looks like? Will I enjoy this type of environment? And I would say if you like a chaotic but fun area then, yes, this area is for you. If you want to be involved in this scene, walk down the hallway that has pink neon frames back to the elevator so it can take you to Level Five. This level is definitely one of my favorites as it has so many colorful lights, the Back to the Future car, and really crazy looking shops where you can talk to the staff, and they just might send you on a very important mission.
5. Beside the amazing theater that plays silent films there is a small hallway with ceramic white masks hanging on the wall, and if you make your way through the city, you'll be able to enter this small room with blue light. It has crazy drawings all over that you can only spot when the blue light is on. There are glowing terrariums with plants and sculptures illuminated with a bit of purple light, and there is even dance music playing.
My least-favorite parts of the exhibit
1. Moving away from the third floor there are hallways with majestic futuristic portraits. One that stood out was one of some black women with green lighting. It was magnificent, yet I feel as if they could have done more with this certain art piece.
2. Then there is the room with very detailed white sculptures; some are of humans with missing parts and others are hybrids of demonic-looking creatures.
3. Admire all the sculptures and their details before being lured into the circus area which will leave you with a nervous feeling in your stomach. It has flashing lights, circus music, clown heads spinning around, red and white targets that spin, and very odd drawings of food and people that honestly gave me the creeps.
4. But, once you escape the clowns, you can take a restroom break, and the restroom is also decorated with black and white prints and a red neon sign that says "memento mori," which is an artistic or symbolic trope acting as a reminder of the inevitability of death.
Overall, Meow Wolf is an incredible experience that is bound to spark the creative interest of all.