The Most Wonderful Food of the Year
The Eagle Way's Favorite Holiday Meals
October through December is the best time of the year, hands down. With holidays like Halloween, Thanksgiving, and Kwanzaa, everyone has something to celebrate. And with decadent celebrations come decadent meals.
Most people usually think of stuffing, turkey, and pie when they hear "holiday food," but according to interviews with the newspaper staff, these common dishes aren't people's favorite holiday foods.
Six out of the eleven interviewed staff members did mention foods such as mashed potatoes (Mia Gallegos, Hampton Sienna), sweet potato casserole (Andy Johnson, Mr. Lay), Pillsbury Crescent Rolls (Avery Schmidt), and stuffing (Brooke Dubs), but the other six people spoke about less-popular foods.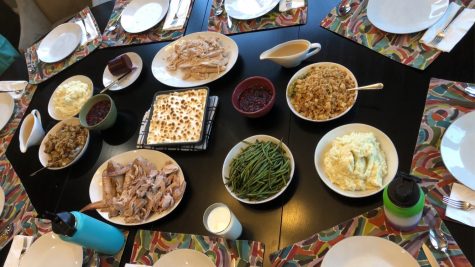 Bella Arreola said her favorite holiday food (between Halloween and New Year's) was Reese's Peanut Butter Cups. She was the only person to talk about a Halloween food.
Other members, Elliot Graham and Sydnee Reichert, shared some unique holiday food spin-offs. When asked, "What is your favorite holiday food?" Elliot responded, "Can it be a drink? … Spiked Eggnog. It's so good." Sydnee responded, "Seafood… Like crab and lobster." She said her family, instead of the usual turkey, eats steak, crab, and lobster on Christmas. Fun, right?
The most foreign-sounding, favorite dishes came from Kylie Wood and Annabelle Lingbeck. Kylie's food, Aebleskivers, are "pancakes in ball-form, and you can cut them open and fill them with jelly and chocolate."
Annabelle mentioned two foods: Buche de Noel and latkes. Buche de Noel is a french Christmas dessert, also known as a Yule log. It is a chocolate sheet-cake with creamy filling, rolled up and frosted to look like a tree trunk. "It's so good," she said. Her other holiday food, latkes, aren't sweet, but they're just as delicious. Latkes, usually eaten around Hanukkah, are potato pancakes. Definitely a must-try this holiday season.
Food, from sweet-potato casserole to Buche de Noel, is what makes the holiday season the best season.
The newspaper staff, even though it is a small sample size, shows how each family is different, and every person has their own favorite foods. This year, I challenge every reader to try a new holiday food.