Protesting & Patriotism
When and how should people protest without insulting our ideals?
Hang on for a minute...we're trying to find some more stories you might like.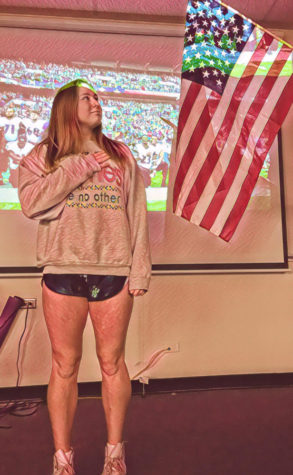 What does it mean to be patriotic? The NFL players, coaches, and owners have the First Amendment right to kneel during the National Anthem, but they should have found a different way to demonstrate their social and political frustrations. Their actions insulted our flag and our country rather than raising awareness for racism. While they were looking to demonstrate their frustrations and disagreements with the President, what they did was insult the primary symbol of democracy and freedom in the world.
It is simple. Stand for the National Anthem. It shows respect for those who have and who are serving our country, allowing us to live freely and express ourselves. It's understandable to why these players feel the need to peacefully protest; however, it has evoked a much larger conflict. Patriotism. It is clearly an issue in the U.S., and there is no disagreeing to that.
With Donald Trump's Tweets only exacerbating tensions, it is strenuous for many people who are associated with the NFL to ignore the concepts of racism and what it means to be patriotic. There are many other ways to express one's opinions, but doing so on national television, during one of the largest watched sports events, well that's taking it too far. There are other appropriate courses of action these players could have taken that would have garnered support, making them look more professional and helping their cause.
For example, LeSean McCoy of the Buffalo Bills completely sat down to do some stretches on the field during the playing of the anthem; that was uncalled for and shameful.
If these players lived in a different country, there wouldn't be an NFL for them to play in. They wouldn't have the same opportunity to play, to make millions, or to have the freedom to express their opinions. Our flag and what it stands for allows them to express themselves in the way that they have, and this is exactly why they shouldn't have disgraced the flag by kneeling during the anthem.
Not all NFL players have participated in this protest. During Sunday night's game, Pittsburgh Steelers left tackle, Alejandro Villanueva, stood out of the tunnel to watch the National Anthem while the rest of his team stayed back in the locker room. As someone who served several terms as an Army Ranger in Afghanistan, Villanueva had legitimate reason to why he did what he did; while at the same time, he does not argue nor necessarily disagree with his teammates for not wanting to do the same. Confident in his decision, Villanueva said he will continue to stand for the anthem, saying, "People die for the flag. There is no way else to put it."
After Sunday night's game,the Steelers agreed that they would be on the sideline for the future National Anthems.
And it's not just about those serving in our military that should be honored, but America and the flag itself. 13 strips for the 13 original colonies. White symbolizing purity and innocence. Red, glorifying bravery and valor. 50 stars for the 50 states that unite us. Finally, blue, to demonstrate vigilance, perseverance, and justice.
It is great that these NFL players want to be role models and make a change to gain recognition for their cause. But they have separated themselves. Instead of uniting and bringing everyone together, they have created a division between our country. They want to see the change; all men are truly treated equally. America is nowhere near perfect, but we have come so far. We can't let these protests intrude on  what America stands for: equality, hope, and freedom.