Jesus Burgers
For the past two years, the church across the street (Reach) has been making and handing out free burgers every Wednesday. What started as a free meal transformed into something priceless.
For many students at Broomfield High, Wednesday has taken on a new meaning. Every week, Reach Church does "Jesus Burgers," which sends students flocking across the street for coffee and free, homemade burgers.
The church has been doing this for two years with the intent of creating a safe space for students to go — not only every Wednesday — but all week.
"It doesn't matter how much we spend on burgers every week," Head Pastor, Kevin Utile said. "We're here just to love on you guys; that's why we do it."
Since the start of Jesus Burgers, Reach Church has been supplying burgers to 300+ students every week. In the beginning, the program only had about 15 people show up and as word spread, the numbers quickly rose. Because of the rising numbers, the church decided to add Duolos Coffee Shop, which has quickly become something that students look forward to every day.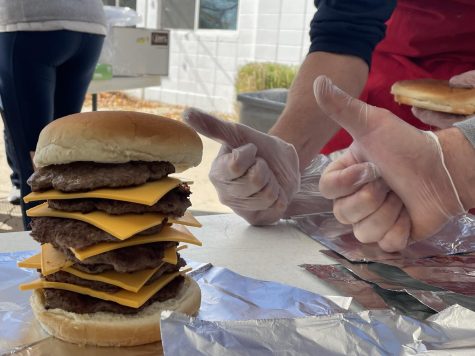 "We introduced the coffee shop to be able to see you guys all week, not just Wednesday," said Billy Beichley, a youth pastor at Reach. "Jesus burgers was for you to visit, and the cafe is for you to stay."
Their idea worked. Now, every day students go to the church for coffee and company during their off periods and lunch.
"We get flocks of kids coming in here every day, and we're happy and trying to learn all your names and build these relationships so that hopefully this can be a safe space for you guys to escape from everything going on," said Beichley.
Aside from weekly Jesus Burgers and daily coffee shop visits, Reach has a history that not many students know about. Jesus Burgers was originally Jesus Pizza, founded four years ago at CU Boulder for students and the homeless.
However, when Reach opened the location next to the high school, they changed to Jesus Burgers because they found it more personal.
"That was our main thing because we didn't just want to say, "Oh, here's a free burger" and then walk away," Utile said. "We want you guys to know who we are, and know that we're real, not fake people."
Building a community and a safe space for students to go is Reach's main goal. With everything going on in the world, they want to create a sanctuary away from anything that may be happening at school.
Reach has not only met its goal but exceeded it. Several students agree:
"I really love it here because of the people. Billy and Nick are super nice and they make good coffee. I think the community is amazing; it's a great place to hangout everyday," said Avery Sammons ('26).
"The community is awesome," said Michael Faller ('24), a regular and volunteer at the cafe. "The people here…there's no bad vibes."
Haley Nolan ('26) said, "I really love this place! It's become kind of a home away from home."
Visiting Duolos and weekly Jesus burgers is something that students might remember for years to come. Reach has shown that something as simple as burgers can turn into something priceless.