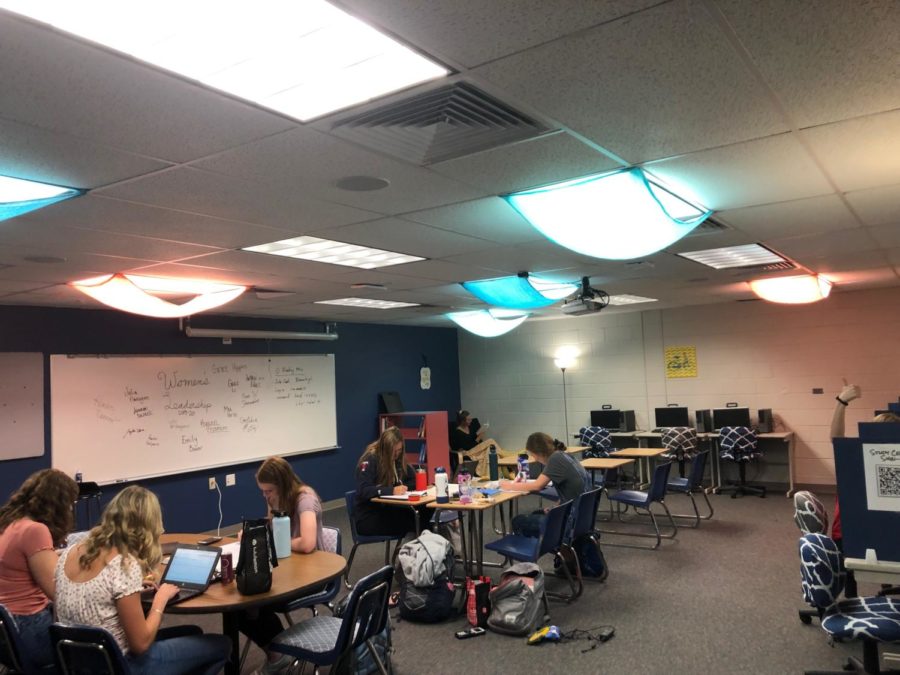 Many students are unaware that room 722 is a newly added all-day study center with teachers for multiple subjects there to help every period. This room is to the right of the Spanish hallway upstairs. Women's Leadership remodeled room 722 on September 21st into a better studying environment, as their "culminating activity" of the year.
The members of Women's Leadership worked for the majority of Saturday, September 21st; repainting, reupholstering, and creating new things for the space. Now, thanks to their work, the room sports a fresh coat of paint, a reading nook, newly upholstered chairs, study dividers, and colored cloth for the lights. The room has no windows, which caused paint fumes to build up in the room as they worked, but they didn't let that hinder them. 
Room 722 is very similar to the library, as it is a study space, however students are allowed to eat in there, providing something to do with any extra time students may have during lunch. Although there are still finishing touches to be added, most of the work to the room is done and it is open to all students, at all times of the day. 
Last year, Women's Leadership completed a similar renovation to the faculty lactation room. Before the renovation, this room was hidden from the community; but it's important to know about. A couple of years ago, a teacher was pumping for her new daughter, but the lactation room wasn't an existing place, and she was barged in on while pumping. A harmless mistake; however, if the lactation room had been an inviting place, there wouldn't have been any awkward encounters. Women's leadership's renovation of that room allowed for women to know they can have a safe place to be a woman. 
Room 722 is completely new, thanks to the hard work of the Women's Leadership program. They are continuing to uphold their goals of supporting women and cultivating female leaders by giving back to the community.